Where you can play poker for free?
Discover the excitement of free poker games! With plenty of options like freeroll tournaments and mobile poker apps, you can play with real players and train your skills. Join us for this year's best free poker sites list. It can be hard to find a trustworthy platform for a fun and free online poker game, but we assure you that everything is under control.
Differences between real money & free poker
Playing Poker on practice tables with chips and Real Money buy-in poker are two different experiences. While the game rules, hand rankings, and betting structures remain the same, the element of risk changes everything. Despite this difference, there are still valuable reasons for players to utilize free practice poker tables online. For beginners, these tables offer a risk-free environment to learn the game without any significant financial stakes.
How can you play poker tournaments for free?
Many of the top online poker platforms offer what are known as "freeroll tournaments". These tournaments allow players to compete for real money and prizes without having to pay an entry fee. It may sound too good to be accurate, but there is a strategic reason behind these events. The major online sites sponsor freeroll tournaments intending to convert practice play players into active paying customers.
Poker rooms understand that transitioning from playing fun practice games to participating in actual money events can intimidate some players. Freeroll games provide an excellent opportunity for players to experience the excitement of playing poker for real cash prizes without taking on any financial risk. Additionally, these tournaments offer a chance for players to gauge their skills against more experienced opponents. As there are real prizes up for grabs, freeroll tournaments attract serious competitors who won't engage in reckless all-in bets solely for entertainment purposes.
Best free poker websites
Global poker
Global Poker is the premier online platform for legal online poker games in the majority of the US and Canada. In 2022, only five states have officially licensed and regulated poker websites. Players in other areas have limited options for illegal platforms.
Global Poker stands apart from the rest as a social poker website that offers players the chance to win real cash prizes. The games on Global Poker are not only enjoyable and thrilling but also provide a safe and user-friendly experience on their website.
Whether you're an experienced poker player with countless hours of online play under your belt or someone curious about trying out online poker for the first time, there's no doubt that Global Poker is the ultimate destination for you.
World Series of Poker (WSOP)
The World Series of Poker (WSOP) is renowned as the leading and most reputable brand in poker. Now, poker enthusiasts worldwide can enjoy the immersive experience of playing in our exceptional social poker room, for absolutely free.
WSOP Social App has effectively captured the attention of online players, and our purpose is to examine its alluring attributes. Our comprehensive evaluation will delve into the intricacies of the software, game variety, rewards program, and overall service offerings provided by this platform. Prepare yourself for a thrilling adventure as you immerse yourself in the exhilaration of the World Series of Poker, conveniently accessible on your mobile device!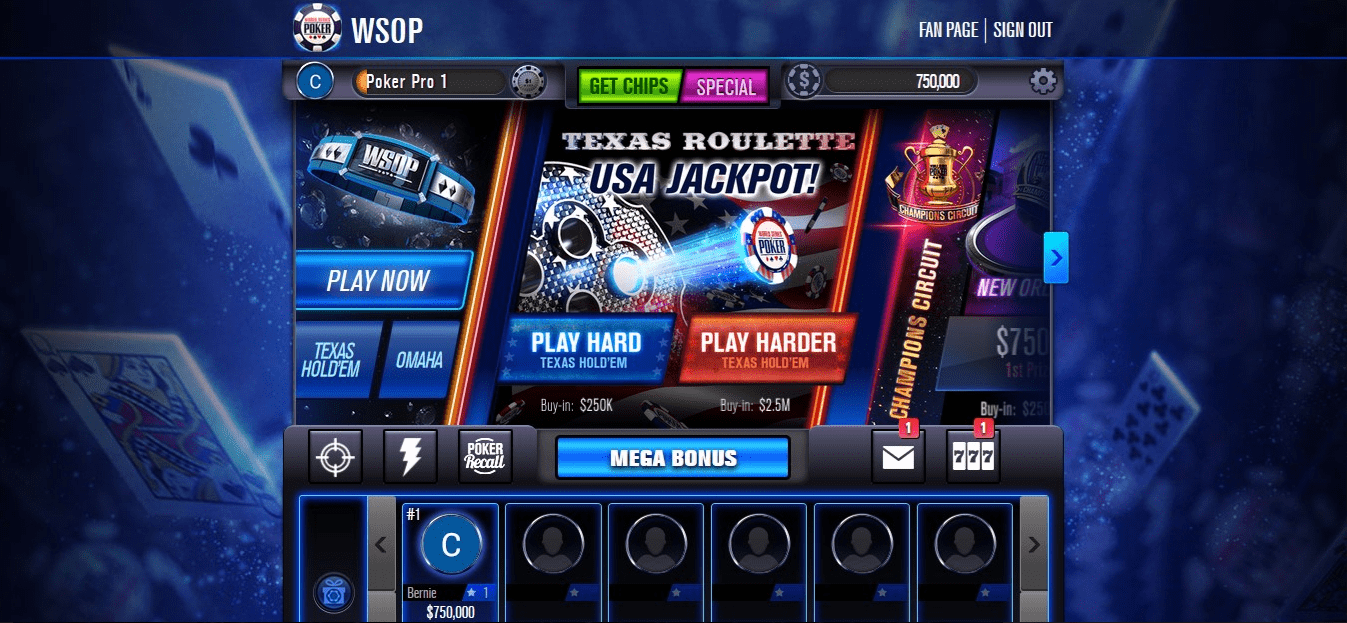 The WSOP software offers a user-friendly and intuitive experience, allowing players to effortlessly navigate through the various games, tournaments and other features. Designed to cater to both new and experienced poker players, the interface is easily accessible.
Club GG poker
ClubGG is not just available as a desktop application, it can also be accessed on iOS and Android devices. Whether you prefer using your phone or computer, the mobile app offers a smooth and responsive experience, packed with all the features you would expect from the leading online poker platform.
With ClubGG's portrait mode on your phone, playing tournaments and cash games becomes even easier, allowing for one-handed gameplay. Folding, checking, and raising are all just a stroke or press away, making playing on the go a breeze. Imagine the thrill of taking down your friend in a game from anywhere in the world or winning a seat at the prestigious WSOP Main Event while waiting in line at the store! The possibilities are limitless.
Rest assured that all the exclusive clubs and features available on the desktop version are also accessible on both iOS and Android editions of ClubGG. No matter which platform you choose, there is no disadvantage when it comes to enjoying everything ClubGG has to offer.
247 Free poker
The 247 poker platform provides a unique and engaging experience for online poker players. Unlike other free poker sites, 247poker emphasizes the strategic aspect of the game, making it more of a brain game. When you log in to play, you have the option to choose from different difficulty levels ranging from easy to expert. Once you've made your selection, you'll be transported into an exciting six-max No-Limit Hold'em game where you'll compete against five AI opponents. This immersive gameplay offers a challenging and rewarding experience for poker enthusiasts of all skill levels.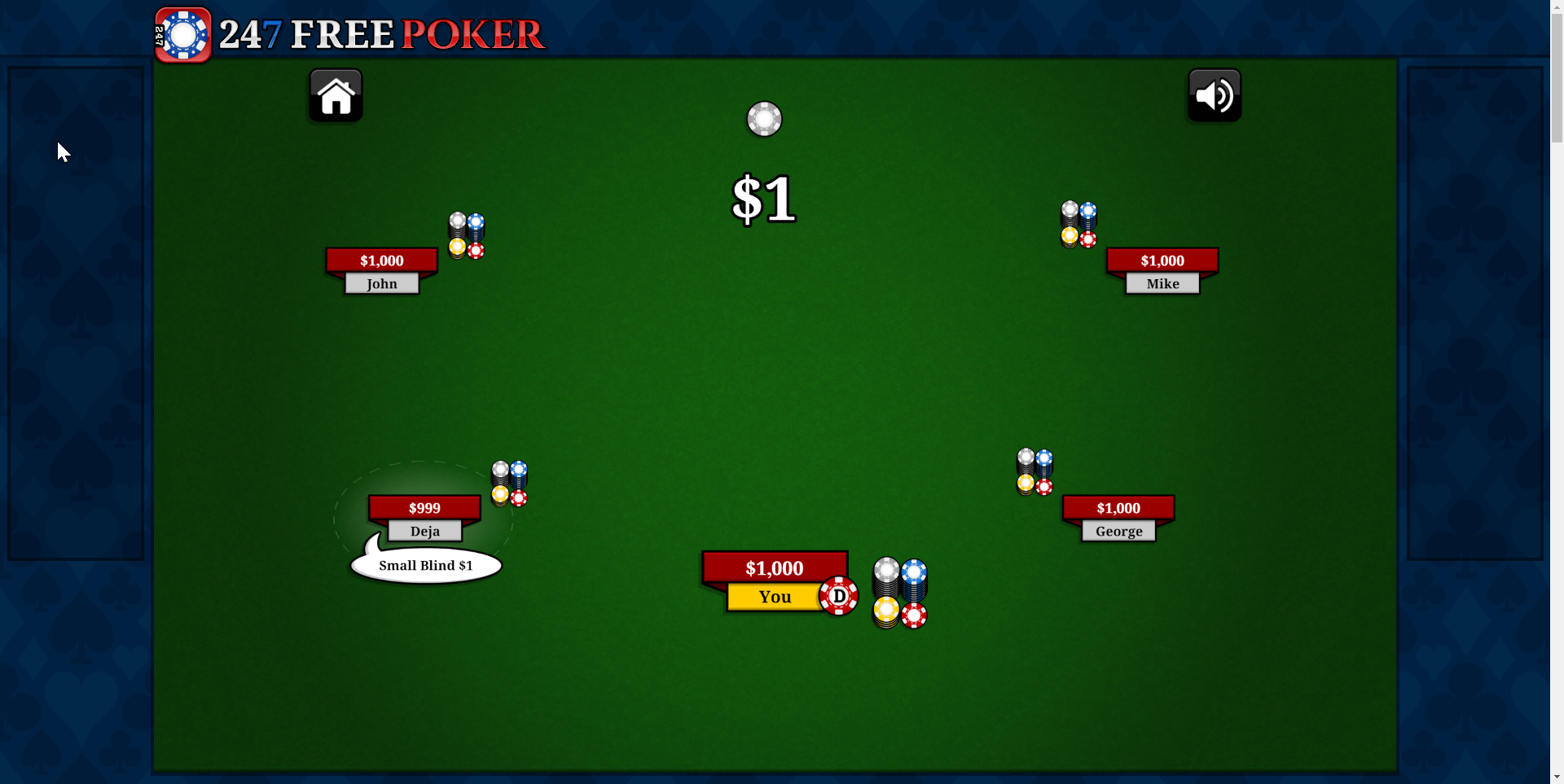 Zynga poker
Zynga Poker is a renowned platform that provides free online poker games. With a hassle-free, one-click sign-up process using your Facebook or Google account, you can easily access Zynga Poker's no-download desktop client. This exceptional platform offers various options such as free "cash games," Spin & Wins, and Sit & Go single table tournaments. While the games are free to play, you also have the option to purchase play money chips whenever you desire. Moreover, Zynga Poker caters to both Apple and Android users with its downloadable app. Experience the excitement of poker without any cost at Zynga Poker today!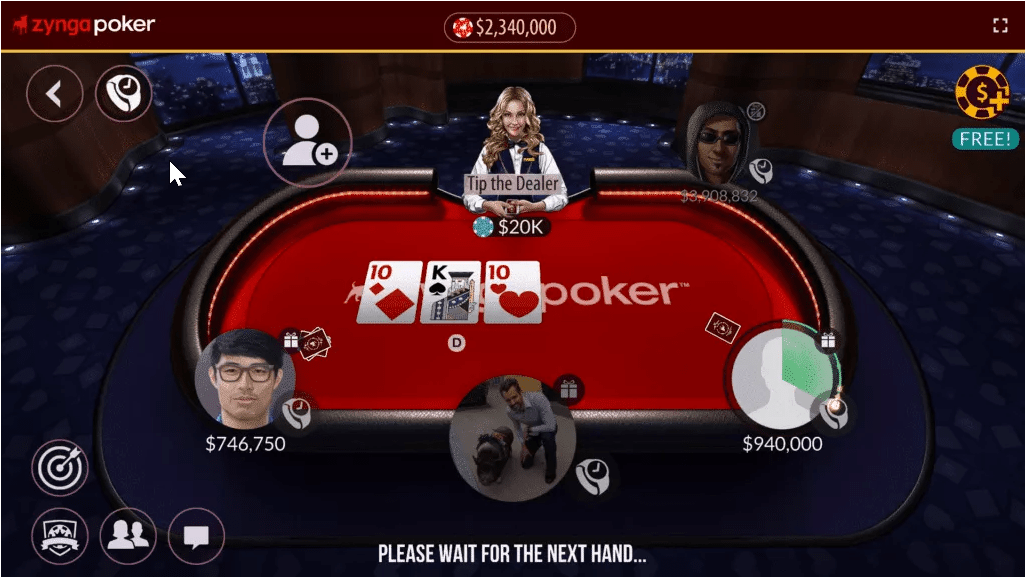 Poker All Day
Poker All Day provides a range of poker options, including No-Limit Hold'em cash games, tournaments, and Sit & Gos. The PAD platform boasts an engaging visual interface that sets it apart as one of the most visually appealing destinations to enjoy free poker online. Upon registering, users are provided with play money credits to begin their gaming experience. Additionally, players have the option to purchase chips for the free games whenever desired.